Urban Decay Naked Heat Palette
$28.00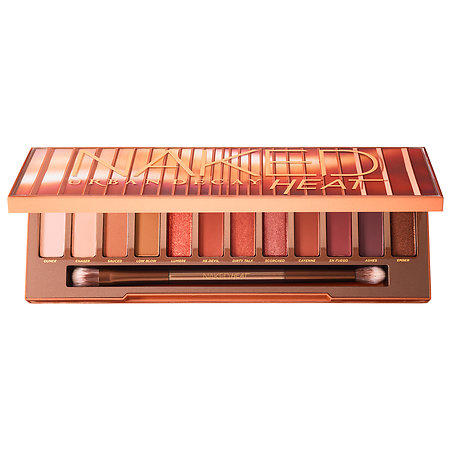 Urban Decay
Urban Decay Naked Heat Palette


$56.00
(You save

$28.00

)

*exclusive offer for you*

Congrats! You have special access to this product and the rest of the HEATWAVE VAULT!

HEATWAVE VAULT members only

This product is in the HEATWAVE VAULT. Make any purchase with the code
HEAT22
and you'll get access.
*sale*
Image is a stock photo. Actual item may vary depending on fill and condition.
Palettes may or may not come with original accessories (ie. brushes, pencils, etc).

Urban Decay Naked Heat Palette is an eyeshadow palette featuring 12 amber-hued neutrals. Urban Decay's Naked Heat features 12 all-new, amber-hued neutrals—including warm browns, burnt oranges, and rich siennas. The most shade-driven Naked palette Urban Decay has ever created, this palette takes Naked the next level. From a super-smooth red-brown matte and a glimmering copper to a deep, shifty bronze, this palette has everything you need to create sultry daytime looks, intensely smoky nighttime looks, and everything in between. Urban Decay Naked Heat Palette shades flatter all skintones, and feature hues like En Fuego: a matte red that looks stands out in the crease or on the lid. Ember is a color that's ideal for the perfect warm smoky eye, and you'll be able to go ultra-bold with Scorched, a metallic deep red with gold micro-shimmer, and Dirty Talk, a metallic burnt red. Urban Decay Naked Heat Palette shades features Urban Decay's Pigment Infusion System™, a proprietary blend of ingredients that gives each shade its velvety texture, rich color, ultimate staying power, and blendability. With shades like these, you'll want to blend the perfect sunset eye, and this formula makes it so easy to transition shades like a makeup pro.
Hello visitor
Your browser is out-of-date. Please download one of these up-to-date, free and excellent browsers:
Google Chrome Mozilla Firefox Opera
We apologise for any inconvenience.