We're having some issues delivering emails to your email address, is your correct email address?
Update email address
Trade Makeup For Cash
We'll send you cash for your new or unloved makeup.
Earn
30% more

in store credit!
How Much Can I Earn?
Use the calculator below to estimate your earnings. You can enter a brand, product type, or even a specific item.
Our Sell Team considers several factors when pricing offers. These include, but are not limited to, brand, retail price, condition, level of use and current market demand. To make sure you get the highest possible offer, check out our What Can I Sell Page.
How It Works
1

Request A Label

Review the sell requirements and Accepted Brands. Next click the button above and we'll email you a free shipping label via USPS. Sell packages are processed within 5-7 business days.
2

Ship Your Makeup

Pick out the makeup you want to sell and use the free label to ship it out. Review our packaging instructions to ensure that your makeup arrives safely!
3

Get Paid

We'll email you an offer within 5 business days from when we receive your sell package from USPS. (Please take into account postage transit time). Accept your offer in cash or get 30% more in store credit!
Accepted Brands and Items
New and pre-owned makeup products and makeup tools (ie. brushes and empty palettes). Also unused makeup, skincare and perfume samples. Accepted samples count towards rounding up your offer!
That are authentic and in SELLABLE CONDITION:

Non-Expired (must be sent in within at least 3 months from printed expiration date If applicable)
At least 50% original product remaining
Exterior container in sellable condition (ie. legible brand and color name, not too worn/damaged, fully functional hinges/closures, no major scratches, cracks or dents)
Brushes must be new or clean and free of product build-up
We do not accept false lashes, skincare, makeup bags or items with reusable applicators (ie. lipgloss, liquid lipstick, mascara, liquid eyeliner pens, etc.) unless you work in the Beauty Industry.

*Sell packages must contain at least 15 full size, qualifying items; international packages must contain 30.*
Anastasia
BECCA
Benefit
Black Moon Cosmetics
Bobbi Brown
Burberry
Charlotte Tilbury
Dior
Dolce & Gabbana
Dominique Cosmetics (Palettes Only)
Farsali
Fenty Beauty
Gerard Cosmetics
Giorgio Armani
Givenchy
GLAMGLOW
Glossier
Guerlain
Hourglass
House of Lashes
Huda Beauty
ICONIC London
IT Cosmetics
Jeffree Star
jouer
Jurlique
Juvia's
Kat Von D
Kevyn Aucoin
KKW Beauty
Kylie Cosmetics
Laura Mercier
Lime Crime
LORAC
LouBoutin
Lunar Beauty (Palettes Only)
Lunatick Cosmetic Labs
MAC MAKEUP
Makeup By Mario
Makeup Forever
Makeup Geek
Marc Jacobs
Melt Cosmetics
Milk Makeup
Morphe
NARS
Natasha Denona
Nudestix
OFRA Cosmetics
OPV
Pat McGrath Labs
Patrick Ta
Pretty Vulgar
RCMA
RMS Beauty
ROEN Beauty (Palettes Only)
Sephora
Sigma
Sleek Makeup
Smashbox
Stila
Storybook Cosmetics
TARTE
The Balm
Tom Ford
Too Faced
Urban Decay
Velour Lashes
Violet Voss
Viseart
Wander Beauty
Wayne Goss
Winky Lux
YSL
Zoeva
Glambot can only accept the above listed brands, regardless of the brands sold on our website.
Glambot DOES NOT ACCEPT hair products, body products, nail products or retail sized fragrances.
All non-qualifying/rejected sell packages can be returned for the Cost of Shipping + Handling Fee. Non-qualifying/rejected items from accepted packages cannot be returned and will be recycled, disposed of, or used for promotional purposes.
How To Pack Your Makeup
1

Use a Box to Pack

Use an appropriately sized box to pack your items. No padded envelopes or bags. Make sure that there isn't any extra "jiggle room". Fill the remaining air space with bubble wrap, tissue paper, or other lightweight packaging. This will protect your makeup!
2

Wrap Individually

Items should be bubble wrapped individually. No loose items with peanuts. When wrapping items, do not seal all the ends --leave one open like a pouch. This will allow us to process your package more quickly. Do not insert bubble wrap inside palettes --this can cause indentations on the product, thus lowering the value.
3

Use Tape Sparingly

Use minimal low-stick tape. No heavy duty duct tape inside the box or on the cosmetic products themselves. This can damage the products! When wrapping items individually with bubble wrap, do not seal all the ends --leave one side open. This will allow us to process your package faster.
Click below to view our packing video or learn more about how to safely pack your makeup.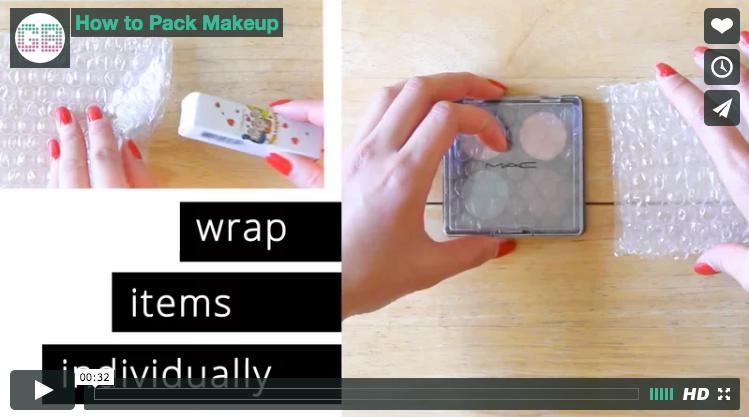 Our Sellers Love Us
Thanks again! Glambot has been so good to me. I appreciate the company overall and the customer service is beyond amazing!
I am trying to live a more green/natural lifestyle and it's nice to know that I can get something back for the conventional brands I am trying to avoid using and that it won't be wasted because someone else can use them! :)
I love that I am able to sell products that I bought that didn't work out for me. I had a great experience with Glambot and made over $100!
Hello visitor
Your browser is out-of-date. Please download one of these up-to-date, free and excellent browsers:
Google Chrome Mozilla Firefox Opera
We apologise for any inconvenience.