Kat Von D Shade Light Contour Palette Refillable
$44.10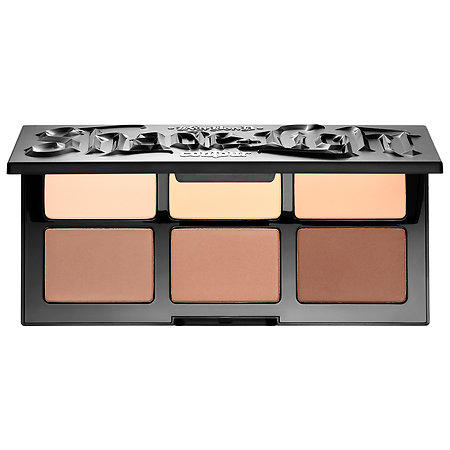 Kat Von D
Kat Von D Shade Light Contour Palette Refillable


$49.00
(You save

$4.90

)

*exclusive offer for you*

Congrats! You have special access to this product and the rest of the VAULT!

VAULT members only

This product is in the VAULT. Make any purchase with the code
PINKVAULT
and you'll get access.
*sale*
Image is a stock photo. Actual item may vary depending on fill and condition.
Palettes may or may not come with original accessories (ie. brushes, pencils, etc).

Kat Von D Shade + Light Face Contour Refillable Palette is just like it's original face contour palette. Only now it's improved with a now refillable plastic durable hard outer packaging. Like it's highly coveted predecessor, this palette by Kat Von D has all the original matte contour palette features. Six in total- three shades for contouring and three shades for highlighting. This palette got all your bases covered!
Kat Von D Shade + Light Face Contour Refillable Palette is new and improved, being redesigned in a sleek hard-shell case. The Kat Von D Shade + Light Face Contour Refillable Palette features magnetic removable pans so you can refill and customize your dream contour palette. As an expert artist, Kat Von D uses shadow and light to create depth and dimension in her sketches and portraits. She applied the same principles of contrast and gradients to create the bestselling Shade + Light Contour Palette. And unlike traditional bronzing powders, the Shade + Light Contour Palette is loaded with a unique selection of matte shades that capture the true hues of shadow and light. The three contour shades create realistic shadows to recede facial features, while the three highlight shades impart a soft luminosity to amplify dimension, so you can effortlessly sculpt, chisel, shape, and slenderize your features for enhanced definition. Flawless baby, flawless.
Kat Von D Shade + Light Face Contour Refillable Palette is a true artist's palette, but it's full potential can be reached when using the Kat Von D Shade + Light Contour Brush. Sorry loves, but the face brush is sold separately! Holding to her usual note of quality, Kat Von D's palettes are composed of silky and buildable powders that blend effortlessly into the skin for a flawless finish- every time.
Hello visitor
Your browser is out-of-date. Please download one of these up-to-date, free and excellent browsers:
Google Chrome Mozilla Firefox Opera
We apologise for any inconvenience.