Huda Beauty 3D Highlighter Palette Golden Sands Edition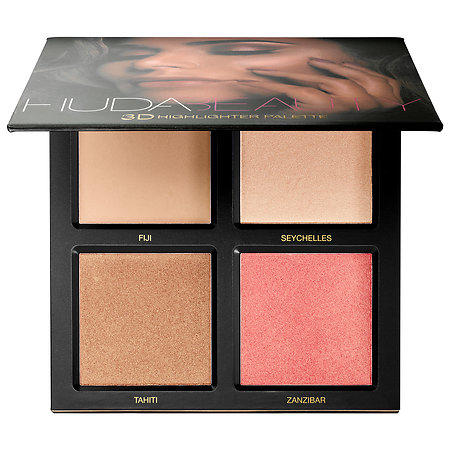 Huda Beauty
Huda Beauty 3D Highlighter Palette Golden Sands Edition

$45.00 $27.00
Out of Stock. Wishlist this item to be notified when we get more!
Image is a stock photo. Actual item may vary depending on fill and condition.
Palettes may or may not come with original accessories (ie. brushes, pencils, etc).

Huda Beauty 3D Highlighter Palette Gold Sand Edition is a sleek and beautiful face perfecting highlighter palette with two different textures. One texture is a pearlescent creamy shade and the other three colors is a texture of finely crushed and pressed pearl essence, which uniquely acts to catch the light in pearlescent hues.
Huda Beauty 3D Highlighter Palette Gold Sand Edition was inspired by famous makeup artist and beauty influencer Huda Kattan. One of her unique techniques includes the hack of layering oil with powder highlighter to amplify her glow. And this palette has it all- since it's packed with two different textures. The first texture is creamy. The color Melted Strobe is a pearlescent creamy formula enriched with karite butter. This unique formulation creates a flawless, lit-from-within type of facial finish. The other three colors have the other texture- one of finely milled and pressed pearls. This unique texture creates a light-catching luminescence of pressed pearls.
Huda Beauty 3D Highlighter Palette Gold Sand Edition very much deserves additional recognition for it's three tones, which are complimentary to one another and blend effortlessly to give you a perfectly sculpted and all-over 3D radiant glow. With effortless blendability and layering power, the Huda Beauty 3D Highlighter Palette Gold Sand Edition lets you build and sculpt your highlight to a desired level of radiance—from subtle, natural radiance to an all-over glow. A definite must have for this summer!
Hello visitor
Your browser is out-of-date. Please download one of these up-to-date, free and excellent browsers:
Google Chrome Mozilla Firefox Opera
We apologise for any inconvenience.